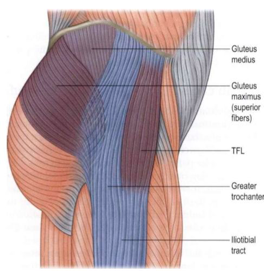 Do you have pain on the outside of your hip?  If so, you may have been told by your medical doctor that you have hip bursitis.  Yet more than likely, you don't.  The physical therapy community has been treating "bursitis" on every client who comes in with hip pain.  Therefore, we stretch out the ITBand, foam roll it, ultrasound it, or maybe even use phontoporesis on it.  Also at home, we recommend rest and ice.  Finally, the patient may even end up getting a steroid injection or surgery.  Unfortunately, that these treatments don't help.  Some likely make things worse.

The Research
First of all, a study (1) found that in patients diagnosed with greater trochanter pain syndrome (hip pain on the outside of your hip), only 1% had bursal distension (bursitis).  45% however, had glute med tears and 55% had glute med tendinopathy.  Other studies have been mixed: 15%(2), or 8%(3), depending on the method.   However, the studies consistently found that tendinopathy the primary cause of the hip pain.  In addition, the studies looking at inflammatory markers in the hip found overall no signs of inflammation in patient with greater trochanter pain syndrome (1,2, 4,5,6,7,8).  Finally, surgical studies have found that bursal distension almost always occurs because of gluteus medius or minimus tendinopathy. This tendinopathy can cause pain in the low back, hip, and down the thigh.
The Old Treatment
So if tendinopathy causes the pain, how do you treat it?  Honestly, the researchers still don't know for certain.  What we do know?  Rest does not help: it doesn't hurt it, but it doesn't make it better either.  Also, ice likely makes it worse.  Ice prevents blood from flowing to the area which the muscle needs to repair itself.  Most importantly, that ITband stretch your personal trainer or physical therapist taught you: the worst thing you can do.  It compresses the bursa even more.  Consequently, the ITband does lengthen, but to compensate for this lengthening, the vastus lateralis (the muscle on your thigh under your ITband) gets larger.
First, place your hand on the middle of your thigh.  Next, move your hand out towards the outside of your thigh about two inches.  Lastly, push into your thigh around this area.  If you feel tender there, your vastus lateralis likely expanded to compensate for an over stretched ITband.
The New Treatment
The evidence based approach right now relies mostly on slow progression strengthening exercises.  Therefore, the exercises should not make you sore the next day, or you will make the tendinopathy worse.  Do not massage right over the bursa.  This will make it worse. However, massage can be done to other areas of the body to address imbalances: I recommend John F Barnes myofascial release.  In conclusion, you should work with a physical therapist to progress these exercises slowly and correctly.  Most important, know that this treatment takes time.  If the therapist has you stretch your ITband, or work your muscles too hard: find a new therapist.  Unfortunately, many therapists were taught the wrong treatment in grad school (myself included) and continue to use it in their treatments.
What can you do on your own?
Other lifestyle tips:
Stand with weight through your feet evenly
Do not cross your legs
Sit with your hips above your knees
Sleep on an egg shell pad with a pillow between your legs
Avoid stairs
References:
Bird, P. Oakley, S., Shnier, R., & Kirkham, B. (2001). Prospective evaluation of magnetic resonance imaging and physical examination findings in patients with greater trochanteric pain syndrome. Arthritis and Rheumatism, 44 (9), 2138-2145.
Connell, D. Bass, C., Sykes, C., Young, D., & Edwards, E. (2003). Sonographic evaluation of gluteus medius and minimus tendinopathy. European Radiology, 13, 1339-1347.
Fearon, A. Et al. Greater trochanteric pain syndrome: defining the clinical syndrome. Br J Sports Med. 2013 Jul;47(10):649-53.
Kingzett-Taylor A, Tirman PF, Feller J, McGann W, Prieto V, Wischer T, Fearon, Aet al. Tendinosis and tears of gluteus medius and minimus muscles as a cause of hip pain: MR imaging findings. AJR Am J Roentgenol 1999;173(4):1123-26.
Pfirrmann, C., Notzli, H., Dora, C., Hodler, J., & Zanetti, M. (2005). Abductor tendons and muscles assessed at MR imaging after total hip arthroplasty in asymptomatic and symptomatic patients. Radiology, 235, 969-976.
Woodley SJ1, Nicholson HD, Livingstone V, Doyle TC, Meikle GR, Macintosh JE, Mercer SR. Lateral hip pain: findings from magnetic resonance imaging and clinical examination. J Orthop Sports Phys Ther. 2008,38(6):313-28.
Cvitanic O1, Henzie G, Skezas N, Lyons J, Minter J. MRI diagnosis of tears of the hip abductor tendons (gluteus medius and gluteus minimus). AJR Am J Roentgenol. 2004; 182(1):137-43.
Dwek J1, Pfirrmann C, Stanley A, Pathria M, Chung CB. MR imaging of the hip abductors: normal anatomy and commonly encountered pathology at the greater trochanter. Magn Reson Imaging Clin N Am. 2005 Nov;13(4):691-704, vii.